News
News Features News Archive News Letters
---
Audio Download Service Launched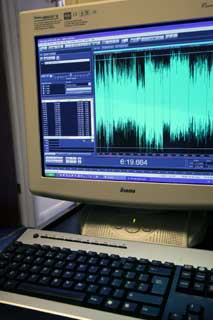 From Tuesday 12th June, blind and print-disabled listeners will be able to download audio versions of national newspaper & magazine titles that have been recorded in the charity's 8 studios based in Heathfield.
Initially, the 50 most popular titles recorded by the charity will be available but Marketing Manager Simon Courcha promises that, "Extra titles will be added regularly with the aim of including all 230 titles over the coming months."
The audio files can either be listened to online by visiting the website or downloaded to be played later on MP3 players. Each file is 45 minutes long and individual articles can be chosen from a playlist. This gives subscribers the opportunity of being selective in the articles that they listen to, just like sighted people would skim through a newspaper and choose what to read.
Gilly Grimshaw, PR Officer says that, "this facility is another important step towards the charity fulfilling its goal of providing print disabled people with the same level of access and choice to news and information that is enjoyed by sighted people. The charity now provides a wide range of formats for delivering news and information not only to the UK, but also to print disabled people around the world."
Alan Pickering CBE, a long time satisfied subscriber to NTNM, enjoys many titles some of which which help him with his job in personal finance. "I like to think that listening to The Economist, Financial Times, and Investor's Chronicle keeps me employable," he says.
For those of you that have not signed up for this service, we are extending the introductory discount period by a month to September 30th 2007. Until this date, the service is available at just £47pa - a 20% discount. If you already take the e-text service and would like to take the audio download service in addition, the special 'bundle' price until September 30th is £75.
The new facility with a free example to download can accessed with this link
Although a subscription is required to access the content.
To find out how to receive this, or any of the services provided by NTNM, please call the customer care team on 01435 866102.

---
TNAUK Registered charity number: 293656
---